The top 5 things to do in Meath this Halloween
The Kids are back at school, we can feel the weather getting a bit chillier and people have already started mentioning Christmas shopping! In a few short weeks the kids will be off school again for a week for mid term- so what do you do to entertain them? Here we have complied a list of 5 things for you to do in the home of the Spirits of Halloween festival- County Meath.
Haunted Spooktacular
This may be for the older kids and adults as opposed to younger kids. The attraction is recommended for 16+ and is guaranteed to leave you scared out of your wits! Situated just outside Kells its not a long drive from Dublin, Athlone or Cavan. Tickets can be booked online or alternatively you can purchase an overnight package from the Newgrange Hotel starting at as low as €85 per person sharing for Bed and Breakfast, a two course evening meal and a fast track ticket each into Haunted Spooktacular. Click here for further information on that package!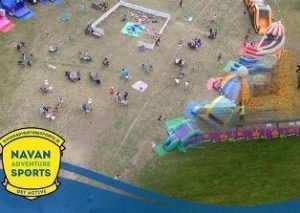 2.Pumpkin and Bounce Navan
Located at Navan Adventure Sports in Navan Racecourse, pumpkin and bounce is the perfect day out for the entire family. The cost is €15 per child (plus booking fee) and adults are free. Each time slot is 2 and a half hours long. Firstly each child will get to pick their own Pumpkin from the Pumpkin Patch, then they get a round of mini-golf and a round of foot-golf. They also get to hop, skip & bounce in the Inflatable Park with over 13 inflatables such as Obstacle Courses, Disco Domes, Super Slides, Combi Castles & good old standard Bouncy Castles.They will have a toddler zone set up for the younger kiddies and toddlers.
There is also a Pumpkin Carving area set up so the kids can carve and decorate their own Pumpkins.
To book tickets for Pumpkin and Bounce Navan just click here. Alternatively you can book a package here for 2adults and 2 children at the Newgrange Hotel to include entry into Pumpkin and Bounce, a two course meal for 2 adults and bed and breakfast for the entire family.
3.Scary Tales at Tayto Park
On selected dates on the run up to Halloween and over the midterm itself, Tayto park will be hosting scary tales from 11-4pm each day. An old manor that stands abandoned, its only inhabitants.... the ghosts that reside within! Join the spectral forces investigation team as you step into the house and make contact with the other side. This is suitable for kids from 6+.
4.Haunted Halloween tales told by Paul Timoney
On Halloween- the 31st of October- Paul Timoney will be telling spine tingling tales for all ages at the Bru na Boinne centre. Admission is completely free and the tales will be at 12pm and 2pm. Its first come first served for this event so get there early!
5.Visit Athboy at Halloween- where it all began
On the 31st of October every year the town of Athboy in Co Meath celebrate the festival of Samhain (Halloween) in their town green. Near here- on the hill of ward is where the New Year Samhain fire was lit on the hill. Torches were lit from this sacred fire and carried to seven other hills around the county including Tara and Loughcrew, and then on to light up the whole country.
All of these events are happening very close to the Newgrange Hotel in the heart of Navan. Contact the hotel here or email them on info@newgrangehotel.ie